Workbook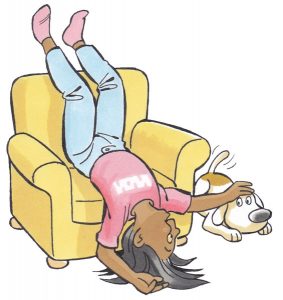 Sensory solutions workbook
Learn (to communicate about) what you need!
To the child: We hope this workbook for children will also be translated in English soon. As of yet we only have a Dutch version. There is sensory input around you all day long. Maybe that's fine with you. But it may also be that you want much more input; or less, because you are often bothered by sounds, smells or other input. You may be underresponsive or overresponsive.
In this workbook you will learn about your senses and about sensory input. So that you will soon be in full control of what you need: much and strong sensory input or less and weaker sensory input.
Together with your workbook supervisor, you will look for strategies that you can use at times when you need more or less input. So you can learn to manage it all by yourself!
To the professionals: In many of the cases where a (parent of a) child comes to you for help, being physically under- or overresponsive plays a role. For example, with hypoeractive behaviour, fear of failure, poor concentration or depression. The main goal of this workbook is to ensure that the child learns to trust what his body tells him and to know that he can make himself feel better. This publication is aimed at professionals who work with children between (approximately) seven and thirteen years of age. Parents, who have knowledge about sensory processing by following a course or reading a book on the subject, can also guide their child in completing the workbook.
This book builds on Sensory solutions in the classroom (and at home) and At homeThe professional or parent helping the child with this workbook should have basic knowledge of sensory processing. Guidance takes place with the help of our manual, which you can download (Dutch). Check this page can download.
'What a comprehensive and yet well-arranged workbook! […] Highly recommended for teachers, children's coaches and counselors.'

Susan Spekschoor
"It's great to see how the student has matured through the entire process and has much more control over her sensory input and can even explain it to others! They really notice a difference at school."

Esther Fieback-Cassee Education counseler
Just like the previous books in the Sensory solutions series, it is again full of fun colored drawings. That makes the book even more attractive to work with. The book is suitable for children with but also for children without sensroy processing problems. By working with the workbook, the child, but also the adult who does it together with the child, gains insight into his or her way of processing input, and how to deal with it. This book can be used to support their intervention for therapists and other professionals dealing with children with sensory processing problems.'

Newsletter Sensorimotor Integration