In the classroom
Sensory solutions in the classroom (and at home)
It's a necessity!
Every teacher knows them – the students who are continuously balancing on their chair legs or hiding in their hoodies all day long. These students are using all kinds of tricks to be able to stay focused, as they are under- or overresponsive to sensory input and trying to restore their balance. In this accessible, science-based book, professionals learn how to support these students by understanding their behaviour and how it impacts their learning. Teachers can learn to look at students in a different way: using 'SPi-glasses' you learn to recognize behaviours linked to sensory processing and respond quickly, easily and with more understanding, without using a diagnosis, medication or therapy. The techniques provided help children feel settled and soothed at school, enabling them to focus, learn and communicate better. 
This book shows how useful it is to wiggle and fidget in the classroom! It is clearly explained how sensory processing works, both for students and the teachers themselves.
Above all, this book is very practical. There are many (didactic) tips that make the classroom and lessons sensory-friendly and thus increase learning efficiency for all students. 
'Not only is this book a great classroom reference, it is also a great reference for the therapist and other professionals because it provides ways to explain sensory processing to others.'
Winnie Dunn, PhD, OTR, FAOTA, Distinguished Professor, University of Missouri Department of Occupational Therapy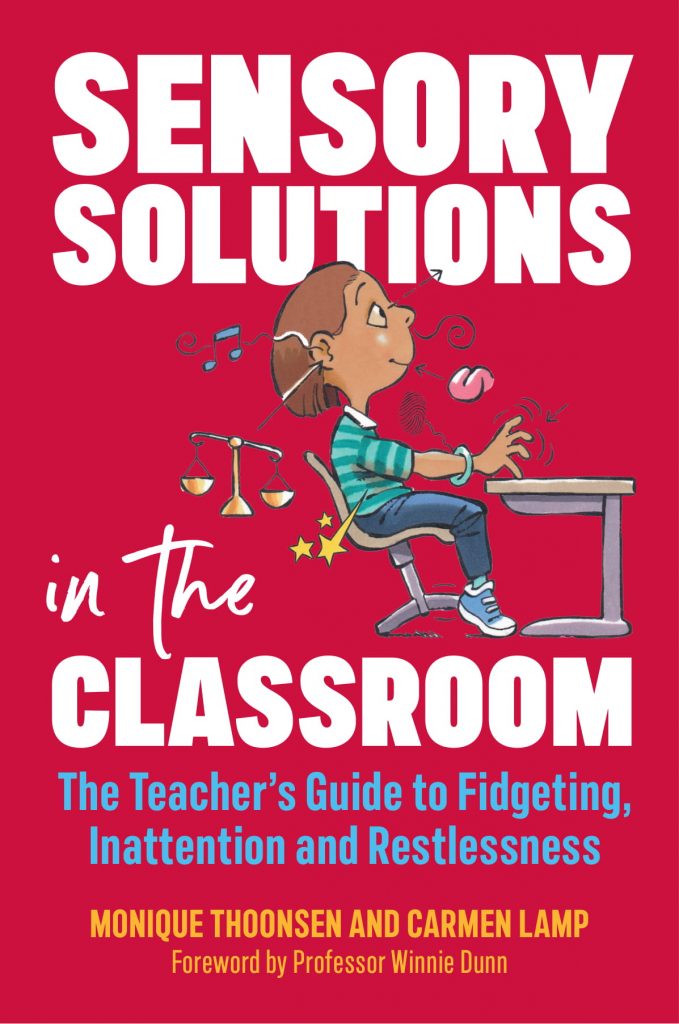 Sensory Solutions cards (Dutch only)
45 classroom strategies
In addition to the book there are these handy cards. The beautifully illustrated cards are intended to be used in the classroom when a student is under- or overreponsive.
There are activating strategies for students who need more input. And there are calming strategies for students who experience too much input. They can carry out the strategies independently or with the teacher.
In the kit you will find:
• 20 cards with activating strategies (red)
• 20 calming strategies cards (blue)
15 cards with strategies to perform as a class or with part of the class
With over 20 new strategies versus the book!
Sensory Solutions theme cards (Dutch only)
Birthday Activities and Circle Time Strategies
In this set you will find various practical approaches to manage wiggling and fidgeting during circle time and to ensure that birthday celebrations are filled with sensory input in just the right way.
Circle Time
Do you want a quieter circle, where there is less distraction from students who are restless, where turns take too long and others are too busy whith their own programm, while waiting? Use one of 25 strategies that will help everyone feel comfortable in the circle and keep their focus where it needs to be. In this set you will find general tips, ideas to help students who experience too little input to stay on task and practical advice for the students who are bothered by input and can therefore not stay focussed.
Birthday celebrations
Not all students like to go around the classes, or to hear the whole class singing at full volume. Everyone has their own preferences, especially when it comes to the amount of sensory input. In this set you will find 20 clever ideas, with which both your under- and overresponsive students can indicate how they prefers to celebrate their birthday.
'These cards can be used very well in all groups. They are made of sturdy material, and what's also very nice is that on the back of the cards there is an illustration of what is written on the front. So also very good to use with younger children who can't read. The picture gives a very good idea of what the intention is. Easy to use in the classroom!'
Miss Marjan