ALL EXTRAS RELATING TO THE WORKBOOK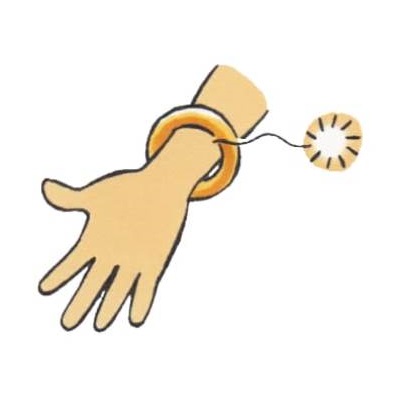 It feels very nice and therefore calming when someone comforts you by, for example rubbing your back or holding your hand. Contact through the skin can cause a reassuring effect.
Do you have any favorites when it comes to clothes? You make a choice because of the way that the clothes look, but also often by the way they feel. As a result, you may for instance, have a preference for certain towels, because they feel very soft or rough.
In bed you can have favorites because of how things feel;

Light or heavy blankets
Cotton or flannel covers
Many pillows or maybe none at all
A thick pillow or a thin one

Do you have a favorite chair or a spot on the couch? Why do you think? Maybe it's because of the way that chair feels, how many cushions are in it and how hard or soft they are?
Do you like to walk barefoot? You may prefer this because your socks or shoes don't feel right.

Or maybe you do it

because you like to feel as many things as possible on your feet. If you prefer not to feel the ground, you may want to wear slippers or thick socks.
If you don't really care how something feels, then you can focus on how it looks. And if that doesn't matter either, then you can leave it to your parents for the time being.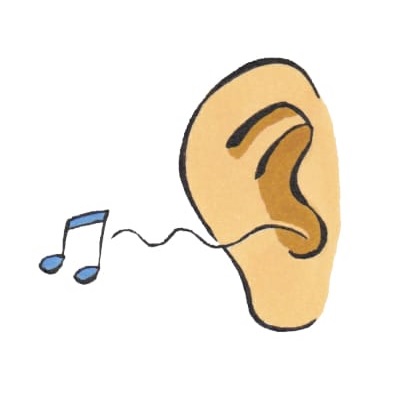 2.1 CHOOSE SOUND. OR NOT.
When you live in the countryside, you will have much less noise around you than when you live in a busy street in a city. You hear less on a calm street than on a busy road. This could influence your choice of where you would like to live.
Some people like hearing sounds and feel uncomfortable when there is silence. Others regularly withdraw to get away from the chaos and noises and prefer a quiet environment.
People als make different choices when it comes to sounds indoors: the radio or tv on, loud or turned down, or turned all the way off.
In the worst case sounds can hurt, putting you in 'survival mode'. You will learn more about this in the workbook 'Making sense of your senses' (out in 2023).
If you are scared of loud sounds, it's better to put on some background music. Because the brain is already processing sounds, a new sound is not experienced as loudly as when all is quiet and suddenly a sound is heard.
2.2 CREATE A MUSIC 'CHILL LIST' AND 'ACTION! LIST'
To create your own playlists, you're going to listen to different kinds of music. You can do that on YouTube for example, to get inspiration for your lists. Did you find what you needed? Then you can make a playlist on a music streaming service like Spotify. Down here are some links (with very limited choices, because obviously this isn't even 1 percent of all the music that you can find, so keep looking and ask everyone what they think is beautiful, and what they think  you should listen to.)
Disco: From the 70s;
Drums: Drumsolo; Afrikaanse drums; Japanese drums; Top Secret Drum Corps video 1 en video 2 (Also nice for watching!); 
Flute: Pan flute; Flute (Do you know which flute is this? Than I would love to hear from you: monique@dutchsensorysolutions.com);
Chançons (French songs): French Chançons;
House: EDM&Electro House Mashup Music; Armin van Buuren (Watch out, fierce laser lights); Martin Garrix; House music club mix;
Classical music: Best of classical music; Concierto de Aranjuez – II. Adagio; The four Seasons, Vivaldi; Relaxing music; Ludovico Einaudi (beautiful to watch);
Blues: John Lee Hooker, Carlos Santana and Etta James – Blues Boogie Jam; Muddy Waters; BB King/Eric Clapton; BB King; Eric Clapton;
Piano: The best of Yiruma;
Naturesounds: Sounds of nature;
Guitar: Dire Straits; Jimi Hendrix; B.B. King with Slash "The Thrill Is Gone"; Santana; Gipsy Kings;
Country & Western: Garth Brooks; Trisha Yearwood; Waylon;
A Capella: Hotel California Acapella Mix Beatbox;
Beautiful beautiful beautiful
 : Queen and David Bowie Under Pressure; Queen and David Bowie Under Pressure A Capella
Gothic: Siouxsie & The Bashees; The Cure; Joy Division;
Hard to name a style: Dead can dance;
Jazz: For example this playlist on Spotify. (An addition from Sofia. Thanks!)
What I used to always listened to while studying: Sade;
Feedback is very welcome. What do you think should be in this list? (monique@dutchsensorysolutions.com)
3.1 'THOUGHTLESS' MOVEMENT
You don't know how much you're moving on 'automatic pilot' using your sense of movement, until something changes.

When a chair is lower than you're used to, 'you fall' the last few centimeters to the seat.
When a curb is higher than average, you trip because you didn't lift your foot high enough.

In well known situations this sense learns exactly when to stop a movement because it's enough. First you have to also use your eyes and touch to align movements in new situations. For example, when you walk up a staircase that has a completely different dimension in terms of step length and height than you are used to, you will definitely be needing your eyes, so that we can move without having to think about it. After some practice, the movement sense handles it all by itself.
In daily life we make a lot of use of this sense, so that we can move without thinking.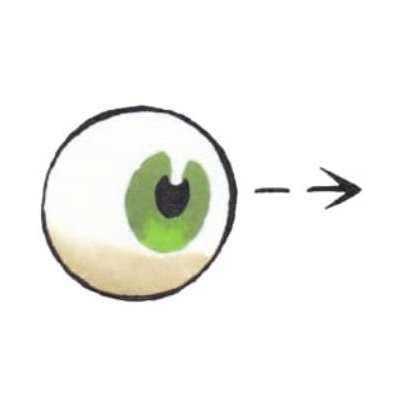 With light you can create ambiance or atmosphere.

When you're in an environment with fluorescent light, you'll feel different than in an environment with dimmed light or candle light.
A day with less sunlight, because of thick layers of clouds, gives a different feeling than a sunlit day.
Too much light can be very unpleasant, so you may choose to wear sunglasses or close the curtains.
How well you process sensory input in your vestibular system has an influence on how you move.

Can you navigate a very narrow bridge while wearing a heavy backpack ánd carrying a picnic basket?

Do you

have problems climbing a tree, to get to

the ball that got stuck? O

r 

would

 you rather 

have

 someone else

 do this

?

The choice of certain sports can also have to do with the vestibular system. Sports such as freerunning, cyclocross, ballet, skiing and mountain biking cause a lot of input to the vestibular system. These sports are more likely chosen by people who are underresponsive.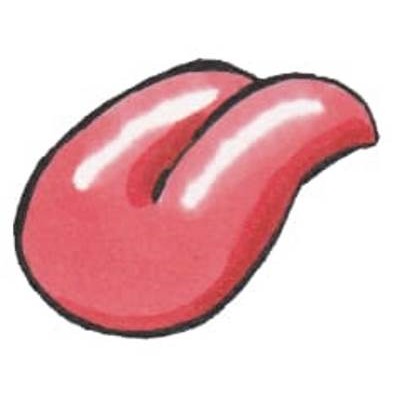 Taste determines your enjoyment of food.

Enjoying a tasty meal together is also a very important social event.
Eldery people have less sense of taste and their food doesn't taste as good anymore. Therefore they have less appetite.
People who have less sense of taste, may even live unhealthier, because they may add big amounts of sugar and salt to their food.
There are many people with a preference for experiencing various and strong tastes. Mustard and hot sauce are a welcome guests in their fridge.
Other people enjoy less intense flavors or structures. It all depends on their sensory processing.
Taste (in combination with smell) warns you when food is spoiled.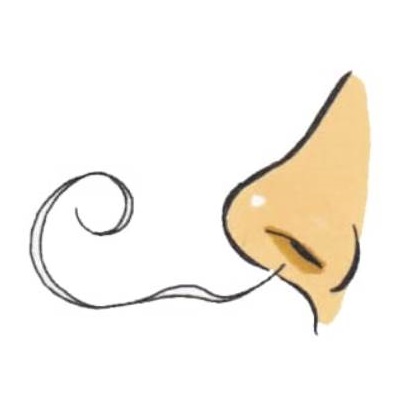 There are smells that most people like, for example freshbaked bread and vanilla.
By adding a scent in the form of perfume or fresh flowers, scented candles or scented sticks in your house, you can influence your mood and that of your guests.
It may be that you don't want to use perfumes, because you find most of them too strong.
When you smell a scent during a nice experience, you're apt to keep liking this scent. If your first time smelling a scent was during a bad experience or a painful experience, you probably will never like this scent.
You get used to certain smells that you are around regularly. The plumber is not bothered by the smell of the sewer he works in or near.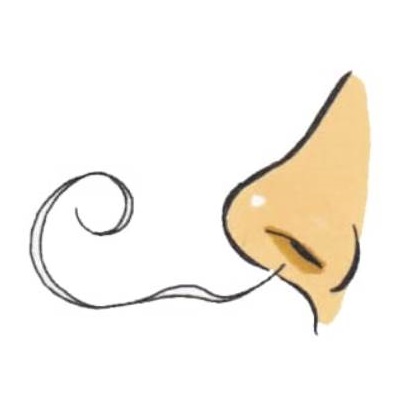 In the chapter 'about senses' (this book will be out in 2023), you'll be making two moodboards.
One for sensory 

input

 which you like and 

which

 

help you.

The other for sensory 

input

 which 

bothers you

.
Would you send a picture of your moodboards? I would love to include it on this page. Please ask one of your parents to email your photos to monique@dutchsensorysolutions.com, and let me know if your name and age may be shown.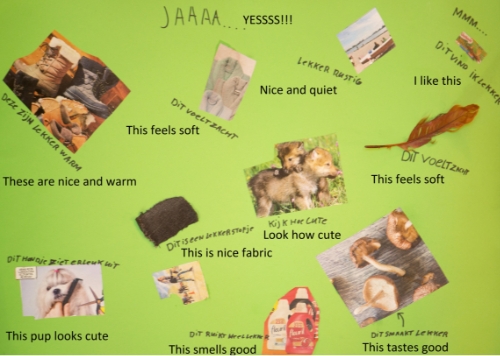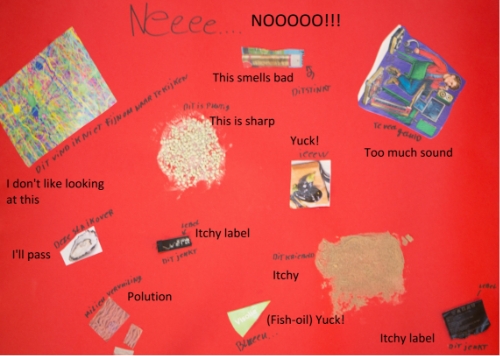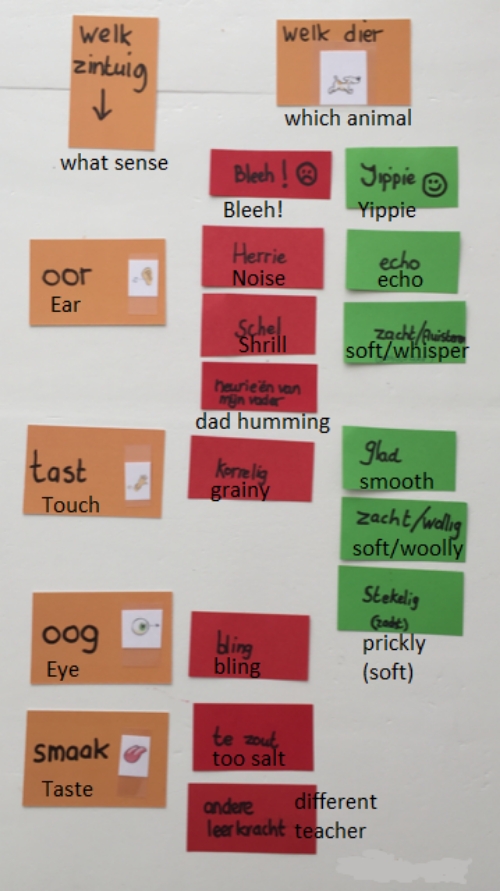 Esther Fieback, educational specialist at AED, Expertise Centrum (V)SO has done the workbook with Sofie Bogerman. Sofie shows what she likes and what she doesn't like with her mood boards (pink and black, below). The form, finish and colour make it all clear!
Sofie doesn't only talk about sensory input on her boards, she also names feelings. With Esther, her workbook supervisor, she translated her feelings to what could help her in class. A great collaboration.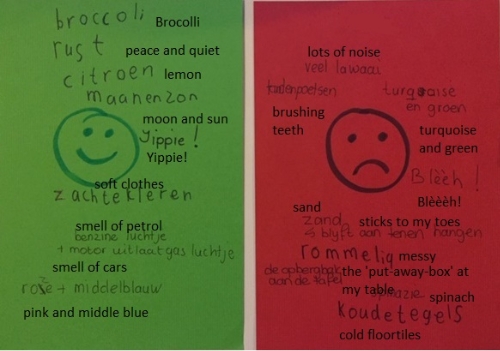 Hetty Markaban from Auti-proof-4-you has helped her 7th grade students to make (small) posters (see above). This fitted better in the time schedule which they had for making the workbook. Thanks go out to OBS Eendracht Hansweert.
Hetty has made a different moodboard for a student from OBS De Eendracht. Per sense they have looked which is nice or annoying input. On the left you see four senses.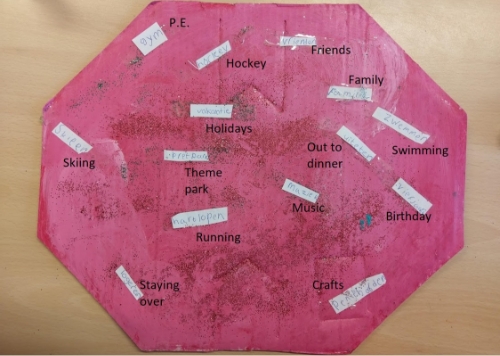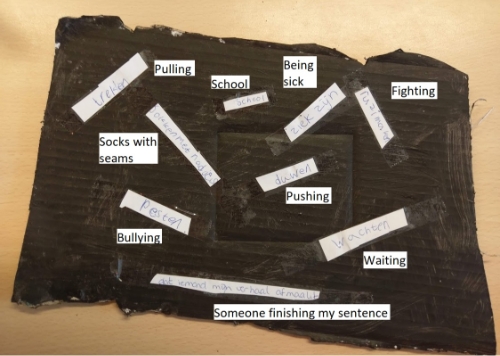 9.2 WHAT IS SENSORY PROCESSING?
This website is full of information about sensory processing. Have a look at the menu at the very top. If you move your mouse onto 'Sensory Processing, you see that you can go to different pages. And if you click this link in the text, you will move to the first page; 'What is SP?'. Have a look if you would like to know more.
If there are words or sentences which you don't understand,  I would like to hear about it. Will you send me an email?  monique@dutchsensorysolutions.com.
This video shows a boy who is very much overresponsive. The sensory input in the video is quite annoying for most people. But if your sensory input filter lets through way too much and too strong input, you may become flooded by the cascade of input.
https://www.youtube.com/watch?v=K2P4Ed6G3gw
Source: Alkurhah